Cookie Policy
The Ulbrich Group wants to offer you the best service possible. To achieve this, we save information about your visit in so-called cookies. By using this website, you consent to the use of cookies. You can click on the 'Additional information' button to find detailed information on the use of cookies on this website. You can also prevent cookies from being used by changing your browser settings.
Additional information
Continue
TECHCON SYSTEMS TS560R Smart controller | New
The
TS560R is a Smart Spray valve controller capable of controlling all Techcon TS5520 series and TS5540 series
. With a universal power supply it is a fully 'plug and play' system and can be used immediately, anywhere in the world.
It features an intuitive touch screen interface for easy setup and operation. Dispensing parameters can be precisely setup directly on the touch screen or remotely through the internet connection.
First in its class, the TS560R is equipped with internet port and WIFI connection to allow users to monitor and make precise parameter adjustment remotely. This feature enables the unit to fit in Smart factory that requires Industry 4.0.
Key features and benefits:
Smart controller capable of controlling all Techcon spray valves (TS5520 and TS5540 series)

Touch Screen interface for easy setup and operation

IoT (Industry 4.0) for Smart Factory integration

Universal power supply for worldwide use

Digital pressure regulator for precise control

Timing range 0,0008-99,9 seconds

Timing tolerance ± 0,001%

Dual pressure units (Psi/Bar)

50 memory slots

WIFI connection

Firmware upgrade through USB port or Ethernet port

Low pressure alarm

TECHCON SYSTEMS TS560R Smart controller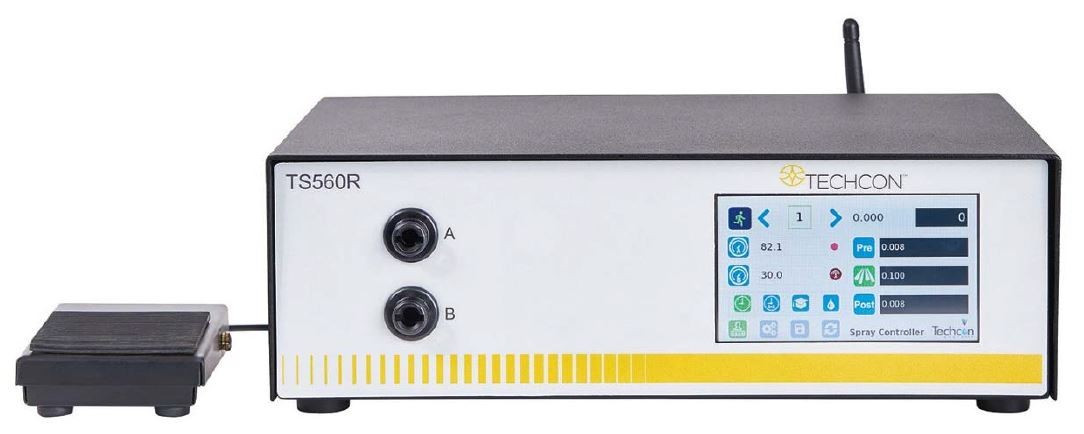 © Copyright 2018 Ulbrich Group
https://www.ulbrich-group.com/,https://dir.ulbrich.si/,eng
Cookie Policy
The Ulbrich Group wants to offer you the best service possible. To achieve this, we save information about your visit in so-called cookies. By using this website, you consent to the use of cookies. You can click on the 'Additional information' button to find detailed information on the use of cookies on this website. You can also prevent cookies from being used by changing your browser settings.
Additional information
Continue